Friends, today we have written an Thank You Letter for Scholarship. we have written various types of Thank You Scholarship Letter for school and college students.
We have seen that often students need scholarship to get higher education. When they get the scholarship, they are very happy and to express their happiness, they want to write thank you letter to the institution or individual giving the scholarship.
But they do not know how to write this letter, so to help them, we have written some samples of thank you letter.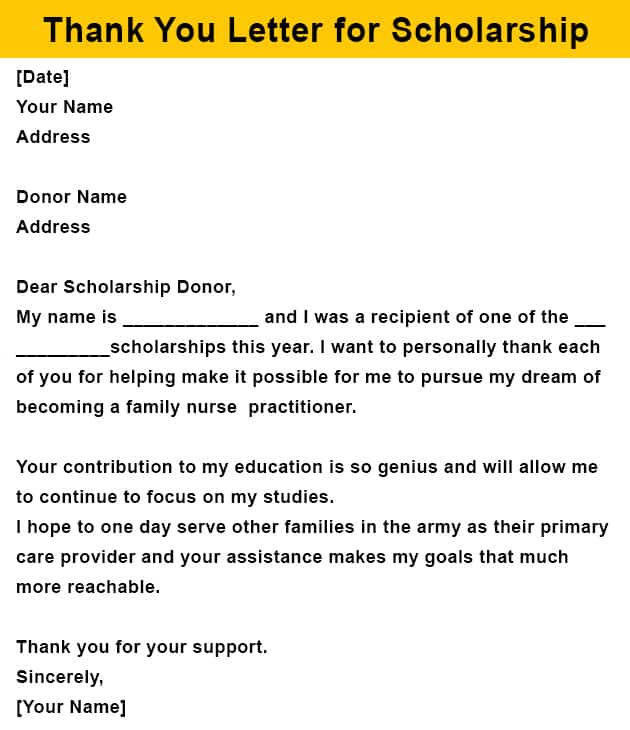 Best Thank You Letter for Scholarship
---
Date
Your Name
Address
Donor Name
Address
Dear Scholarship Donor,
My name is Carden Moto and I was a recipient of one of the xyz scholarships this year. I want to personally thank each of you for helping make it possible for me to pursue my dream of becoming a family nurse practitioner.
Your contribution to my education is so genius and will allow me to continue to focus on my studies. I hope to one day serve other families in the army as their primary care provider and your assistance makes my goals that much more reachable.
Thank you for your support.
Sincerely,
Carden Moto
Thank you Letter for Sponsoring My Education
---
Date
Your Name
Address
Donor Name
Address
Dear Scholarship Donor,
I would like to thank the Civil marksmanship program for their generous scholarship offer. I will be graciously accepting it. This opportunity means so much to me as an upcoming college freshman this fall. It will make a big difference in helping me to buy books, pay tuition and pay fees.
Because of this scholarship, my family has also been positively affected. They already give so much of their time and money to me. I know that this will take some of that weight off of their shoulders.
Once again, I thank all of the members involved in the civil marksmanship program for giving my family and this remarkable opportunity.
With great thanks,
Rebecca
Sample Scholarship Thank You Letter
---
Date
Your Name
Address
Donor Name
Address
Dear Scholarship Donor,
Thank you so much for your support. scholarships, such as the Alpha alimony scholarship are the boosts that aid me through my education career. My name is Chelsea and I am a senior early childhood education major. I was born and raised a tiger fan in Columbia, South Carolina.
After I graduate I plan to teach in South Carolina or in one of the surrounding States. I believe that it is my purpose to help children succeed in the world. I desire to give my Future students a supportive system, just as I was given a supportive system in school and life.
Each child deserves a chance to reach their potential and I want to help my students reach it. I am very appreciative of you for being a recipient of the Alpha scholarship.
Thank you again for helping me receive it top authority education.
Sincerely,
Chelsea
Things to keep in mind while writing scholarship letters
Greet the Donor – Example: Write to the donor or organization.
Express Your Gratitude – Example: "Thank you so much for your generosity."
Demonstrate the Impact – Example: Why you chose [scholarship Name].
Look Forward – Example: "Upon completion of my studies plan to pursue a career in teaching."
Grace…Thank Again – Example: "Thanks again for your gift."
Signing Off – Example: "Sincerely,"
Also Read –
---
5+ Application for Leave from College in English
4+ Write an Application For Absent in School
4+ How to Declining a Job Offer Email Sample
4+ Application for Changing Subject in English
4+ Leave Application for Death of Grandmother
We hope you have liked the Thank You Letter for Scholarship. If you liked this article, then do not forget to share it with your friends and family.
If you have any question or suggestion about this, then let us know by commenting.