Friends, today we have written an Leave Application for Death of Grandmother. we have written various types of Death leave applications for school and college students.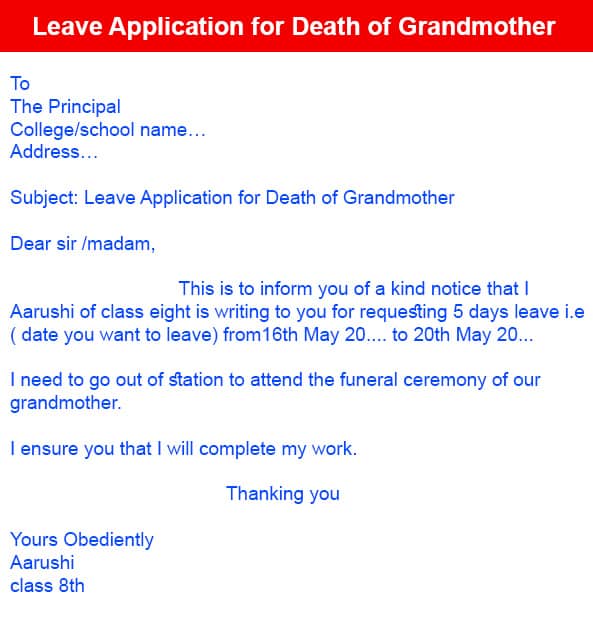 Leave Application for Death of Grandmother in English
---
To
The Principal
College/school name…
Address…
Subject: Leave Application for Death of Grandmother
Dear sir /madam,
This is to inform you of a kind notice that I Aarushi of class eight is writing to you for requesting 5 days leave i.e ( date you want to leave) from16th May 20…. to 20th May 20…
I need to go out of station to attend the funeral ceremony of our grandmother. I ensure you that I will complete my work.
Thanking you
Yours Obediently
Aarushi
class 8th
Emergency leave for Grandparents death
---
To
The Principal
New Future Public School
Jaipur, Rajasthan
Subject: Leave Application for Death of Grandmother
Respected sir,
Most humbly and Respectfully I beg to say that I am ( write your name) of class__________ with section. I will not come to school from date_______to______ due to ( any reason).
so kindly grant me leave for these days.
Thanking you
Your faithfully
( name)
Leave Application for Grandmother Death for School
---
To
The Principal
Govt Senior School
Ghaziabad, U.P.
Subject – application for leave for attending the rituals following my grandmother's death.
respected sir,
With due respect and humble submission I beg to state that following few lines for favor of your kind consideration and necessary action. That, I (name) of class________ of this institution, am sieved to inform you that my beloved grandmother passed away last night. I have to attend her funeral.
so I want to leave from date_______ to __. During which , I will not be able to present in the school. Therefore I request you to grant me leave for the above period. I shall always be obliged to you.
Thanking you
Yours Obediently
Name:
Class:
Roll number:
Application for Death leave
---
To
The Principal
JK Public School
GT Road, Jaipur
Subject – request for emergency leave due to grandmother death
Sir,
I ________________________, Student of class 10th section A. I was not wondering that my grandmother will have to reach that extreme sickness which led him to death. I am very bad that I am not able to see my grandmother anymore.
I would like to take a short leave for 5 days from__________to________.
Thanks for your cooperation.
Your Obediently
Name:
class:
Also Read –
---
4+ Sick leave Application for School Teacher by Parent
5+ Application for Leave from College in English
4+ Write an Application For Absent in School
4+ Application for Changing Subject in English
Write a letter to your friend to spend summer vacation
4+ Admission Cancellation Application in English
4+ Chutti ke Liye Application in English
We hope you have liked the Leave Application for Death of Grandmother. If you liked this article, then do not forget to share it with your friends and family.
If you have any question or suggestion about this, then let us know by commenting.