Thank You Email After Interview : In this article, we are writing the best thank you email template with three examples. I will discuss point-by-point on how to write a thank you letter after an interview.
stay to the end, because we will tell you the subject line of this email and what to do if you don't hear back from them, after the thank you.
Sending a thank you email after an interview is an absolute non-negotiable in your job search. Commit to it right now, that you will always send one after an interview.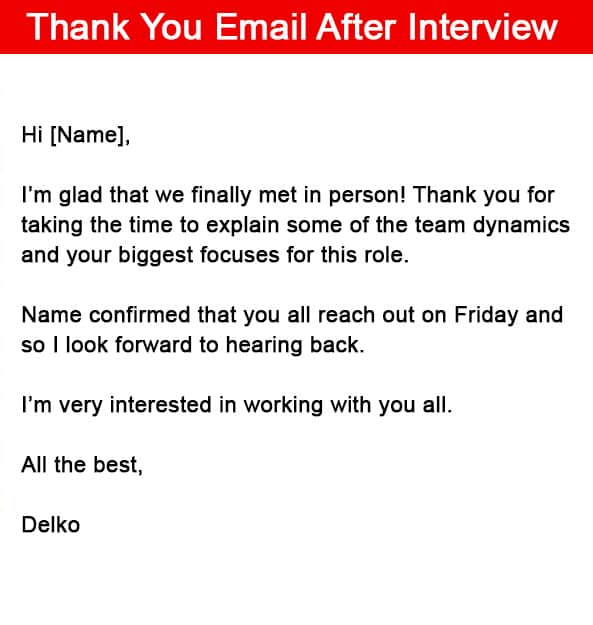 How to Write Thank You Email & Letter After Interview.
Best Thank You Email After Interview
The reason is, it shows, you want the role. And deepens the emotional connection.
Companies want people who want them. And the coolest thing about this, is research shows that only about 20% of candidates send thank you notes.
Which is in line with my experience as a recruiter. So, you are way ahead of those other chumps when you do this.
So when should you send the email? Within 24 hours.
we actually heard of one job seeker, who left the interview, sat in her car, wrote personalized, physical thank you notes, and then walked back in, and handed them to a receptionist to distribute.
That's pretty cool. I like email best because it gets to the people the fastest in 24 hours. But this method actually beats it all speed wise. So embrace that tip, if you want to. You'll for sure stand out.
Here's the email template :-
The three ingredients that must be in the email are gratitude, enthusiasm and personalization. So it should sound something like,
Hi [Name]
Thank you for taking the time to meet with me today. I enjoyed our conversation, especially [a specific topic you discussed].
I'm very excited about this opportunity, and I look forward to hearing about next steps.
All the best,
[Name]
Okay, let me show you this in action. We are going to show you two thank you emails.
(1) Thank You Email Template After Interview
---
Hi [Name],
I'm glad that we finally met in person! Thank you for taking the time to explain some of the team dynamics and your biggest focuses for this role.
Name confirmed that you all reach out on Friday and so I look forward to hearing back. I'm very interested in working with you all.
All the best,
delko.
---
So this email is short and has all three factors, gratitude, enthusiasm and personalisation.
Example number two after interviewing with someone who is responsible for the office and facilities.
(2) Short and Sweet Thank you Email after interview
---
Hi Name,
So great meeting you yesterday. Thank you for taking the time to get to know me! You have seen so much change at the company over the past year and a half and it was great to hear your perspective.
[Other Name] even told me about the crazy hours you pulled getting the kitchen in order for some executive.
Wow! Hopefully there's no more weekend work from here on out, but it was really cool to hear how you and the team rose to the occasion.
I feel really great about my visit yesterday and I hope the feeling is mutual. Looking forward to next steps.
PS – A friend recently asked me for a list of events we've put on at company for employees. I'll go ahead and share that list with you in case it is sparks any ideas 🙂
Best,
[Name]
---
So what went right? I acknowledge why I valued the conversation, I complimented her work ethic and I showed very high enthusiasm. And notice I did a PS.
A PS is a great way to establish a further connection. It could be something very personal and outside of work, such as recommending a vegan restaurant that you really like, if you heard their vegan.
(3) Thank you Letter for Interview
---
Dear Mrs [name],
Thank you for the opportunity to interview with XYZ Company. Your kind hospitality and strong presence in the community have only furthered my desire to join your outstanding organization.
During the interview we discussed the importance of giving back to our local communities. Living in this area for the past eight years, I feel a sense of belonging and attachment to the community.
I believe that this—in addition to my other qualifications—make me a strong candidate for this position.
Thank you again for the opportunity to learn more about XTZ Company. I believe that this position is a great fit for my skills and abilities, and I look forward to becoming a productive member of your organization.
If I can be any further assistance please don't hesitate to contact me. I look forward to hearing from you.
Best Regards,
John Smith
Also Read –
---
3+ Cancellation Letter For Gym Membership [Sample Letters]
How to Write a Goodbye letter to coworkers
3+ Write a letter to your friend to spend summer vacation
We hope you have liked the How to Write Thank You Email After Interview. If you liked this article, then do not forget to share it with your friends and family.
If you have any question or suggestion about this, then let us know by commenting.