Friends, today we have to Write a Letter to Your Friend. Often during school exams, students are given to write letters.
We have written various types of letters which include school, further studies, vacation, the experience of school etc.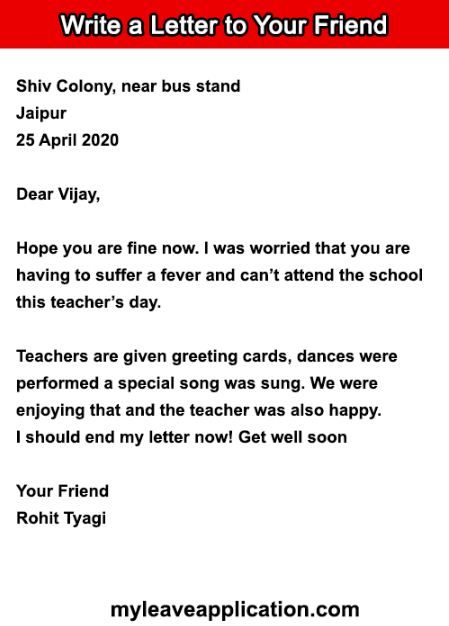 Write a letter to your friend describing your plans for your further studies
---
Gandhi Colony, near airport
Udaipur.
25 April 2020
Dear Sanjay,
I am much pleased to receive your letter in this very morning after a long time. In your letter, you have asked me as to what I would do after my H.SL.C premonition. Well, I am going to write a few lines about it.
After my examination, I have decided that I will take admission in Jaipur college. My aim is to become an engineer and I will take P.C.M in college for further studies.
It is a very nice college with well-educated teachers. I hope that could reach my goal. That's all about I had intended to do. Don't forget to drop a few lines about intention.
With great love and tender my best compliment to your parents.
Your Friend
Vishal Sharma
Write a letter to your friend in another school telling him or her about your school
---
Shiv Colony, near bus stand
Jaipur
25 April 2020
Dear Vijay,
Hope you are fine now. I was worried that you are having to suffer a fever and can't attend the school this teacher's day.
Teachers are given greeting cards, dances were performed a special song was sung. We were enjoying that and the teacher was also happy. I should end my letter now! Get well soon
Your Friend
Rohit Tyagi
Write a letter to your friend about your recent trip
---
101/5, 2nd street,
Gandhi Nagar,
Kota.
Date – 02.05.2020
51, 2nd floor,
Radha Krishna Colony
Udaipur.
Dear Punit,
Hello, how are you! I am fine here, I went to Delhi to saw historical buildings. When I was packing my suitcase for the trip, I can't found my shoes and camera.
I searched for them everywhere. At least, I found them behind the suitcase. I was a fool because I searched for them everywhere but the find behind the suitcase.
This incident happened to me. Respect to uncle and aunt love to Amit.
Your Truly
Ravi Panth
Write a letter to your friend to discuss your experience of school
---
Subodh Public School,
Virat Nagar,
New Delhi,
14 May 2020
Dear Deepak,
Hello, I am fine here, Hope you are also good there. I just wanted to discuss my experience of school with you.
My school starts at 10:00 am. First of all, we pray together in school and after that, the teacher tells us some informative things. After some time we go to our classroom and our class teachers record our presence there.
After this, regular classes start. We are taught different subjects at different times in the classroom, in which subjects of Hindi, English, Mathematics, Social Science and Science are taught.
I think science is the best subject because I get to learn many things by being interested in it. After a class of three subjects, there is an intermission and we eat food in it.
After teaching all the subjects, our physical teachers take us to the field to feed the game. In the field, we play cricket, football, volleyball, hockey. After this, our school is over.
Our school is closed on Sundays, on this day we study at home. I like my school very much. I invite you to study in my school too.
Yours lovingly
Rahul
Write a letter to your friend informing her that you would be visiting her during your vacation
---
105, 2nd street,
Gandhi Nagar,
Delhi.
Date – 02.05.2020
Dear Priya,
Hope you are well. you will be glad to hear that I will be visiting you during my Christmas vacation in Delhi.
my uncle has shifted there recently and he has asked us to spend the vacation with him since you also stay there, I don't want to miss the opportunity of meeting you.
so, please tell me when you would be available we can spend a day together and have fun. looking forward to your reply.
yours affectionately
Anita
---
Also Read –
Half Day Leave Application for School Student to Principal
One Day Leave Application for School
Casual Leave Application Format for School Teacher
Half Day Leave Application for Urgent Work
We hope you have liked the Write a Letter to Your Friend. If you liked this article, then do not forget to share it with your friends and family.
If you have any question or suggestion about this, then let us know by commenting.